If it wasn't already clear, I'm big on travel!  I'm always planning my next adventure and have found the perfect way to do so on a larger scale. Find out how you can plan your own solo travel trips with Enjoy the Wood's 3D wooden maps.
Wooden maps
The wooden maps are a natural, decorative feature to add to your home, but they are also great for travellers like me too. I'll tell you more about their features and how to install them, but first, a bit about the people behind this home décor product.
Enjoy the Wood – A Ukrainian craft business 
Based in the Ukraine, Enjoy the Wood is a family business founded in 2014 by husband and wife, Igor and Maryna Fostenko. They started the business making wooden beard combs and other accessories. However, it was 2016 when they began producing 3D wooden world maps.
The product received a lot of interest and in 2018, they decided it was time to expand the business further. They chose a Kickstarter campaign with the hope of raising $15,000.  Instead, they raised $100,000, much more than they had imagined. It was after this that their 3D wooden maps began receiving recognition internationally.
Exploring the wooden maps
Sizes and colours
There are different styles to choose from.  There's Multicolour, Oak and Walnut, to quirky designs like Nordik, Cappuccino and Space.
They come in four sizes ranging from Medium to XX-large.  You can choose the level of detail you'd like on your map, and there's three different options:
'Blank', which has no country names or border markings engraved
'Prime', which has country names, borders, states, and capital cities engraved
'Prime +' which has all the 'Prime' features but also includes a set of nine wooden picture photo frames.
My choice
As I already had a large poster map of the world on my wall, I knew the 3D wooden map would fit nicely in its place.  I opted for the multicolour version in the XL size.  I knew the colours would work perfectly and suit the existing interior of my room.
Seriously, even the box design made me eager to see what was inside.  The animation-style drawings on the front are fun and really stand out.  It invites you to open it.
Inside you'll find:
Wooden map pieces
Box with islands, ocean names and other wooden pieces (you get this depending on the map size you choose)
Two corner stencils (for the installation)
Double-sided sticky dots
Installation instructions and QR code
The map pieces are beautifully cut and engraved.  I love the fact they're made from birch plywood, so are eco-friendly and durable.  I'm sure you'll be able to find the right one to suit your style as the maps are fully customisable.
Measuring up
To start with, make sure you have enough space around the area you intend to mount the map. You'll need a few things to hand. A pencil; measuring tape; spirit level (optional); scissors, sticky tape, and maybe even a stepping stool.
You'll need to measure your space and use the stencils included.  They are numbered so you know which one to start with.
Map it out
Once you've measured up, it's a good idea to lay out the larger map pieces before mounting them on the wall. It's a good way to see how each piece fits together.
Mounting the map
Once you get going, mounting the larger parts is quite straightforward. The stencils really help with the first couple of pieces. It wasn't long before I had the main map area on the wall.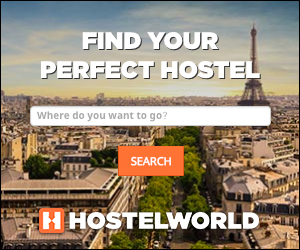 Twitter Pinterest Facebook WordPress This post may contain affiliate links and as an Amazon Associate
Read More »
The detail and final steps
Next, it was the detail pieces. Ocean names, islands, planes, and boats.  This part took a little more time because I had to gently tease them out of the wooden board they're etched into.  Placing them required a little more accuracy as they don't join like the larger pieces.  Each one must be placed individually.
The whole installation took me just under three hours to complete.  Worth every minute!
Buy your own 3D wooden world map with the promo code 'lovetotravel' to get 12% off your purchase.
I absolutely loved installing my 3D wooden world map!
Aside from how much I enjoyed putting the map together, while thinking of my solo travel adventures, it was also a great way to remember countries and their locations, especially the islands. For example, I don't really hear about Novaya Zemlya or the Easter Islands much, so it was such a great exercise.
Pinning places
It's now the coolest way for me to plan my solo travels. I've pinned places I've visited and can now visually plan where I'm off to next. It also looks amazing on my wall and really stands out.
More map details and features
There are a few key features and things to know, so let's start at the beginning…
The maps are made of birch plywood and are between 6-12mm thick.
With your purchase you receive:
A natural birch plywood patented Enjoy the Wood map
Worldwide delivery
Lifetime warranty
A choice of features
You can localise your map further. They come in English as standard, but you can request customisation into other languages.
There's the option to add some extras to your purchase as well. To help showcase where you've travelled, or perhaps where you want to go, you can also purchase push pins. There are different pin styles available including the country flags (which I have), wooden sightseeing, national park pins, sticker flags and many others.
Support
If you still can't decide, get some inspiration to help you choose your map. Try Enjoy the Wood's AR app (that's Augmented Reality). It's available on the Apple or Google Play app stores and you'll be able to visualise what the map would look like in your space before you buy.
The map was easy to mount, and the sticky dots provided were simple to use. If you have any issues inside the instruction holder, you'll find a QR code to scan for 24/7 support if needed.
If you ever need to remove the map, perhaps you're going to move house or do some decorating, watch the video of how to do that.
Check out the maps for yourself and start deciding how to plan your solo travel trips with Enjoy the Wood 3D wooden world maps!
Check out the maps for yourself and start deciding how to plan your solo travel trips with Enjoy the Wood 3D wooden world maps!
If you'd like your own 3D wooden world map, buy one using the promo code 'lovetotravel' at the checkout and get 12% off your purchase.
Thanks to Enjoy the Wood for providing an XL Multicolour 3D Wooden World Map for this review.
Website: https://enjoythewood.com
Note
The views expressed in this review are my own and based on my own experiences with the product or service referenced.
On the 24th of February 2022, Russia invaded the Ukraine, an event which has impacted the Fostenko family, their employees, and business.
Not allowing the war to beat them, the dedication of Igor and Maryna, their family, and employees, is evident. They have kept the company going despite the destruction of their facilities; 92% of the headquarters in Irpin and 95% of production in Borodyanka, gone. They moved the company to the outskirts of Uzhgorod to be out of harm's way from the warzone hot spots.
Igor and Maryna continue to rebuild not just their premises but have also created a safe place for employees who have lost their homes.
Visit the resources page for more useful travel planning websites, apps and planning platforms.
Blog
Twitter Pinterest Facebook WordPress This post may contain affiliate links from brands. This means that I may receive a commission
Take me there »
Greece
A spa located on the edge of a cliff overlooking the Aegean Sea.  The perfect way to spend a morning
Take me there »
Greece
Spending time on one of the legs of Halkidiki is always full of things to do as it's quite easy
Take me there »