A quick introduction to the Sporades Islands.  The Sporades is the group of islands in Greece which I decided to visit to mark my 5th anniversary of solo travel.  While I didn't go back to Santorini — one of the Cyclades Islands where my solo travel journey began — I was keeping the theme by visiting an island.  Well, I visited three of them!  Here's my quick introduction to the Sporades islands.
The Sporades is made up of over 20 islands but only four, Skiathos, Skopelos, Alonissos and Skyros are inhabited.
For this trip, I decided to visit popular Skiathos, Skopelos (the island where Mamma Mia! was filmed) and Alonissos, the quieter of the three closest Sporades islands.
The islands
Skiathos, Skopelos and Alonissos are located very closer together. They're all accessible by ferry from Volos or Thessaloniki (and Kymi in the summer season, which is on the island of Evia). You can also travel by plane directly to Skiathos from the likes of the UK.
Known for its beaches (there's about 60 of them!) and busy night life, Skiathos is the smallest of the four inhabited islands.  With 'Skia' meaning shadow and 'Athos' referring to Mount Athos, Skiathos is known to be "In the Shadow of Athos".
The island has its own airport, so that makes getting to Skiathos even easier.  If you do book a stay on the island, do some plane-spotting.  You'll see just how close up they get as they land.
If you're planning a trip to the Sporades, you can't miss stopping by Skiathos. Spend two or three days on this beautiful island.
Things to do
There are many things to do on the island like visit some of its beaches like Koukounaries, Agia Eleni or a boat trip to Lalaria beach. You can walk along the new and old ports of Skiathos, spend time on Bourtzi or go shopping on Papdiamanti street.
Due to its association with Mamma Mia! Skopelos became the well-known backdrop to this popular film.  It sits in between Skiathos and Alonissos and is one of the larger inhabited Sporades Islands.
Compared to its neighbour Skiathos, Skopelos can be a lot quieter.  However, where it lacks in busy footfall, it makes up for with luscious greenery.
Skopelos and Skiathos
Unlike Skiathos, Skopelos doesn't have airport so it's only accessible by ferry or boat.  I heard from locals during my stay that despite an opportunity to build an airport on the island many, many years ago, residents opposed the decision.  
Why
Well, they wanted to keep the island unspoilt and free of a very busy commercial, tourist footprint.  This would allow the island to continue flourishing with forests and beautiful olive groves.
On Skopelos
On the island of Skopelos you'll find Antoniou Family Olive Press. This is where most of the olives on the island are pressed and made into olive oil. You can take a tour there and taste and buy their oil. 
Mamma Mia!
Another tour you can take is the Mamma Mia! tour. Even if you're not a fan of the film, try this trip with Dolphins of Skopelos – a tour operator on the island. I did the tour, and it was well worth it. It does help if you've already seen the film as you'll recognise references or places, but it's not a necessity. You'll get a good overview from the tour guide and see key places where filming took place.
Twitter Pinterest Facebook WordPress This post may contain affiliate links and as an Amazon Associate
Read More »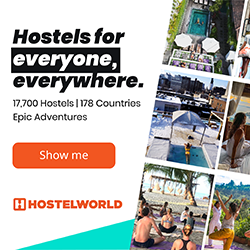 Skaithos and Skopleos are certainly the more popular islands in the Sporades. If you fancy venturing beyond these popular islands and find yourself somewhere a little less fast-paced, try Alonissos. Meaning "another island", Alonissos is beautiful and very serene in comparison. It has a marine park in which dolphins and monk seals have made their home.
A different pace of life
Alonissos has a different pace, especially if you visit in the low season months — May-June and September-October. While it has become busier over the last few years, it's still a great place if you're looking for peace rather than party.
You could even (unintentionally) add a slight mobile detox to your trip because across some parts of the island, you'll find that you completely lose signal at times…. The locals I spoke to said the same happens to them.  Not a bad thing in the almost 'always connected' world we live in.
Look at my posts on Alonissos to see where I stayed and what I got up to.  While in Alonissos, I stayed at Angelos.
Skyros, located further south compared to the other islands, is the largest of the Sporades islands.
It can be reached via a ferry from nearby Kymi, which is located on the island of Evia (also known as Euboea). Evia is close to and reached from Athens.
It's more traditional compared to the other four islands and is less developed from a tourist point of view. This means it's retained more of its characteristics and is more peaceful.
Time for you to visit the Sporades?
That's my quick introduction to the inhabited islands in the Sporades.  Here's a few round up tips:
Sporades tips
You can take a ferry to the Sporades Islands from Volos or Thessaloniki. In the summer you can also take it from Kymi 
If you want to start in Skiathos, you could take a flight as it has an airport
If you have enough vacation time, try to visit at least two or three of the inhabited islands
Watch the planes land in Skiathos.
I was ready for my stay on the next leg of my Greek island hopping,
Read More »
When I decided to spend my time in Kalabaka, I chose to stay at Hotel Alexiou, Meteora.   Located
Read More »
If you're looking for somewhere not far from the beach, but close to enough to
Read More »
After finally deciding on which leg of Halkidiki to visit (Sithonia in the end), I
Read More »
Okay, so I'm writing about another stay at Plus Florence Hostel. You can tell I must
Read More »
If you'd like to island hop these islands like I did, why not start planning your trip and boom your ferry now!
Blog
Twitter Pinterest Facebook WordPress This post may contain affiliate links from brands. This means that I may receive a commission
Take me there »
Greece
A spa located on the edge of a cliff overlooking the Aegean Sea.  The perfect way to spend a morning
Take me there »
Greece
Spending time on one of the legs of Halkidiki is always full of things to do as it's quite easy
Take me there »